Merchandise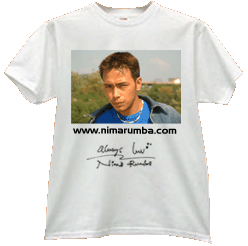 Due to the demand of many of my fans, I have come up with the idea of merchandising. In association with ATTSH-Art Transfer T-shirt House and CYBERNEPAL, we have initiated this venture by producing t-shirts, autographed by me. As our venture is not focused on making profit, we are providing the t-shirts at the cost price of Rs. 650/- .
The t-shirts are available both in gents and ladies design with the print of my various photos. For purchase, contact:
ATTSH
Art Transfer T-shirt House
PO Box: 8141
New Road, Kathmandu
Tel. +077-1-230676
* Also deals in Rubber Print, Screen Print, Computer Film Print, Photo Print and Steel Badges.
Samples
The samples below are only to show the photos that can be printed on t-shirts; you can choose your own design and size of t-shirts by visiting ATTSH.